Green, greener, the greenest – After the rain in July all the plants are growing, showing you the tropical side of Nicaragua. Sea-turtles are coming out at night, humpback-wales can be seen out at the sea playing and the fruits are getting ripe – you can find a lot of dark red dragonfruits, guayabanas, bananas,…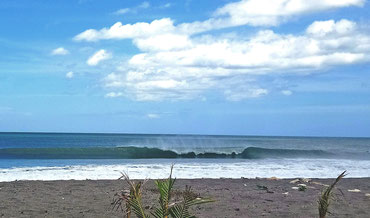 "Pistols", the wave right in front of us, had great waves this month. Nice and clean lefts and rights – with some little barrels to catch.
Overall the waves a getting a bit smaller but the offshore wind still makes them have a clean face.
 Guest review
"After 3 weeks at Nimbu we simply need 2 words to describe our vacation – MUCHO GUSTO – and there is only 1 main feeling left at our hearts: HAPPINESS!!!
Nimbu was the perfect homebase for starting to explore some of Nicaraguas most stunning places, like the colorful cities Léon and Granada or the beautiful nature around Las Penitas, the Mombacho Vulcano or the fresh water of Laguna de Apoyo,…
Karin and Chris were amazing hosts full of joy and enthusiasm helping us organising our trips and providing us with more than many helpful advices regarding surfing and things to do around the lovely little fishing village El Transito, such as watching the gorgeous sunsets in one of the tide pools or enjoying the sunrise after hiking up a nearby small hill with an marvelous view."
Werner & Resi from Austria
Special Activities
We visited the largest cathedral central americas which is located in Leon. The cathedral was awarded World Heritage Site status with the UNESCO. Leon is Nicaraguas second biggest city – full of beautiful colonial architecture, typical nicaraguan "mercados", bars and nightlife.